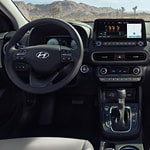 The Hyundai Kona has outstanding safety features that enhance your confidence whenever you drive. These features help you feel more capable of handling whatever happens on the road.

Rear Cross-Traffic Alert

The rear cross-traffic alert feature in the Hyundai Kona can detect traffic up to 65 feet away. The system provides advanced notice to help prevent an accident. You will also hear an audio alert and see a message requesting that you engage the brakes. We do not doubt at Hyundai Of Cottonwood that you will love having rear cross-traffic alert and other features in the Kona.