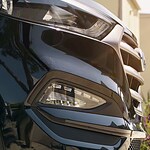 One popular crossover SUV is the Hyundai Tucson which is designed to be an all-around great value car. From its high gas mileage to its powerful engine, the Tucson gets the best of both worlds with comfortability features and integrated technology.
The Tucson has a convenient driver display to control navigation and audio at the tip of your finger with a touch screen interface. The size of the vehicle is designed to make your trip comfortable whether it be daily drive to work or a long road trip with friends and family.
The technology features of the Tucson certainly contribute to its overall value. There is a smart cruise control that uses radar to maintain a safe distance between you and the car ahead and automatically turns off when you slow down. There is also wireless device charging and a USB input. To evaluate the value of the Tucson and these features for yourself, try taking a test drive today.