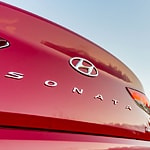 If you're in the market for a mid-size automobile that effortlessly delivers power and performance to spare, you'll love the latest edition of the Hyundai Sonata. You can get all the facts on the popular Sonata and take a test drive at Hyundai Of Cottonwood, so visit our convenient showroom in Cottonwood today.
With the Sonata, there will be no worries about having the power that's required to get going and also to come safely to a stop. A well-engineered powertrain made up of a four-cylinder engine and an eight-speed transmission supplies all the forward energy that you'll need, and the braking system brings the Sonata to a smooth stop regardless of the road and weather conditions.
You're also certain to appreciate the solid handling and suspension systems that are the main ingredients behind the Sonata's pleasant, comfortable driving experience.