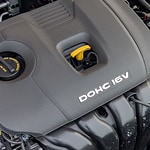 The Hyundai Elantra is a compact sedan that continues to be one of the bestselling on the road each year. One of the benefits of an Elantra is that it has a range of different performance features, which compare well to the competition.
The base model for the Elantra comes with a 2.0-liter four-cylinder engine that will produce around 160 horsepower. With this engine option, it receives strong energy efficient ratings including 41 MPG when driving on the highway and 31 MPG in the city. The Sport trim for the Elantra has a more powerful turbocharged 1.6-liter engine that can produce over 200 horsepower, which provides a lot of power for a vehicle of this size. With this engine, you can receive a blended fuel efficiency of 29 MPG.
If you are interested in the Hyundai Elantra, you should come to Hyundai Of Cottonwood today to learn more and test drive it for yourself.